Message from the Dean
Continued Success in a Fast-Paced Society
Grow and Develop Your Skills at the Faculty of Engineering, Kumamoto University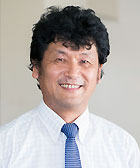 Dean of the Faculty of EngineeringTsuyoshi Usagawa The Faculty of Engineering turned 120 years old in 2017 and has produced 38,000 graduates who are now active all around the world. The Faculty of Engineering at Kumamoto University provides the two environments one needs in order to establish the fundamentals for being an active member of society: a systematic education environment with high standards through graduate school and a research environment that pushes the limits of cutting-edge research.
During the Kumamoto earthquakes of April 2016, the educational and research environments of the Faculty of Engineering were greatly damaged. Even though some of our facilities are still being restored as of April 2018, we were actually able to begin lectures again just one month after the earthquakes. We are gradually reviving our research programs, and in March 2017, all of our students were able to graduate and complete their studies and go out into the world.
In the meantime, the University created the Kumamoto Recovery Support Project for the purpose of recovery and restoration after the Kumamoto earthquakes, and both faculty and students alike are involved in this project. An example of this is the Kumamoto University Mashiki Labo, established in October 2016, where faculty and students work together for the recovery and revitalization of the town of Mashiki. Additionally, the Center for Water Cycle, Marine Environment, and Disaster Mitigation was started in April 2017 to academically expand upon research related to disaster prevention and mitigation, as well as the findings gained from experiences after the Kumamoto earthquakes. Student volunteer groups were also very active immediately after the disaster, and are now not only working towards local recovery, but are also helping with support projects for disasters in other prefectures.
With the reorganization of the Faculty of Engineering into four departments and the Graduate School's Master's Program into four departments that correspond with each of the undergraduate departments, we are now able to offer a continuous six-year educational program. Establishing this educational system enriches the fundamental education shared throughout the Faculty of Engineering and strengthens and expands the coordination between undergraduate and graduate programs in order to provide an advanced professional education. In addition to providing the basic academic skills required by engineers to be active members of society, we continue to make progress in providing education that cultivates in students the skills needed to respond to rapid globalization and support manufacturing in Japan. Through international activities like our long-running Mono Kuri Challenge student creativity contest and the multi-national (Japan, Korea, and Taiwan) Monozukuri Design Camps, our students are able to gain more practical experience. Because many exchange students are studying at Kumamoto University, students have the opportunity to come in contact with various cultures and ideas. We have exchange programs with overseas partner schools, and our graduate school also offers a double degree program* with universities in Europe and Asia. Additionally, various industry partnerships in a variety of fields, including those with local companies, offer excellent opportunities to obtain information important in deciding on what to do after graduation. As a result, the Faculty of Engineering is a window wide open to our ever-globalizing world, and there are many opportunities within reach for everyone.
It is the role of university to provide the essential time and space to prepare students to set out into the great open seas of the world, and Kumamoto University's Faculty of Engineering is focused on providing the environment its students require. But it is up to each individual person as to how they choose to take advantage of the opportunities they are given at university. Join the Faculty of Engineering at Kumamoto University to build the knowledge, skills, and spirit you need to forge your own future by yourself.
*This program bestows two degrees simultaneously upon students who enter two graduate schools at the same time and satisfy the requirements for graduation at both graduate schools. This program is available between the Graduate School of Science and Technology and a number of universities in Europe and Asia.