Message from the Dean
Pioneers of the future: Embracing the Spirit of Fifth High School at Kumamoto University's Faculty of Engineering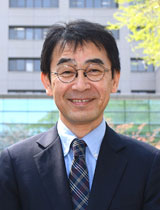 Dean of the Faculty of EngineeringTSUREKAWA SadahiroThe Faculty of Engineering at Kumamoto University, which was founded in 1897 as the former Faculty of Engineering at the Fifth High School under the Meiji system, celebrated its 120th anniversary in 2017. There are more than 38,000 graduates of this faculty, who have imbibed the spirit of the Fifth High School, as demonstrated by their prominent contributions to diverse professional fields within and outside of Japan.
Currently, we are witnessing the rapid progress of society at an unprecedented pace and a shift from a traditional capital-intensive society to a knowledge-intensive society that is grounded in the application of data science and artificial intelligence. In this context, our aim to educate and cultivate engineers of outstanding caliber, whose judgments stem from the integration of engineering expertise with interdisciplinary knowledge; who have the ability to solve problems and develop new field; and who possess broad-based knowledge from an international perspective. Such individuals can contribute to human welfare and cultural progress and can promote coexistence with nature.
The education that we offer conforms to a standard international curriculum, and is based on cutting edge research. In April 2018, in response to societal demands, the Faculty of Engineering was reorganized from its previous structure in which there were seven departments to four departments in total. "Late Specialization," which allows students to determine their specialized education program commencing from their second year of studies, was also introduced. Further initiatives are needed to promote a sustainable society, solve various social issues, and create new values. Such efforts include deepening our specialized knowledge, adopting a broad perspective, and skill development relating to a wide range of liberal arts. The conventional four-year undergraduate study period is not sufficient for accomplishing all of this, so we have embarked on a six-year education program that includes a graduate-level master's program.
In addition to the specialized education offered by each department and educational program, the Center for Global Communications, which is attached to the Faculty of Engineering, provides various education programs to cultivate students' abilities to respond to globalization and to support the Monodukuri process that has been driving Japan's development process. The International Capstone Design Camps that we are conducting collaboratively with Dong-A University in Korea and Kaohsiung University of Technology in Taiwan provides students an opportunity to gain a unique manufacturing experience within an international team. In addition, we organize a pitch contest within an introductory educational program, with the aim of inculcating an entrepreneurial mindset. Furthermore, we are supporting substantial extracurricular activities within student projects. For example, there are groups that contribute to regional revitalization through collaborative projects, such as "vacant house renovation" conducted with local residents. While strongly promoting globally-oriented education and research within Kumamoto University, we are also cooperating with local governments and industries as well as actively leading activities that are contextually rooted in this region as a center of excellence. Faculty members at the University's Mashiki Laboratory, which was established to support recovery and reconstruction efforts after the Kumamoto Earthquake, have been working together with students to restore and rebuild Mashiki Town. There are also student volunteer organizations contributing to these efforts, which have been ongoing since the disaster struck. They also continue to support the recovery from the torrential rain disaster in July 2020 amidst the Coronavirus pandemic.
On the occasion of the anniversary of the foundation of the Fifth High School, Soseki Natsume, a former professor at this University, stated that education is the foundation of the nation; if we teachers do not demonstrate trust and affection for our students, and if students do not lean on their teachers, then the consequences for education will be devastating. Fortunately, the Faculty of Engineering at Kumamoto University has many distinguished professors who are passionate about teaching and engaged in cutting-edge research. We believe that the educational objectives of the Faculty of Engineering will be achieved if the students and professors advance together through friendly competition. Join the Faculty of Engineering at Kumamoto University. By doing so, you will grow into an outstanding professional who will contribute to the development of a new and progressive future society.